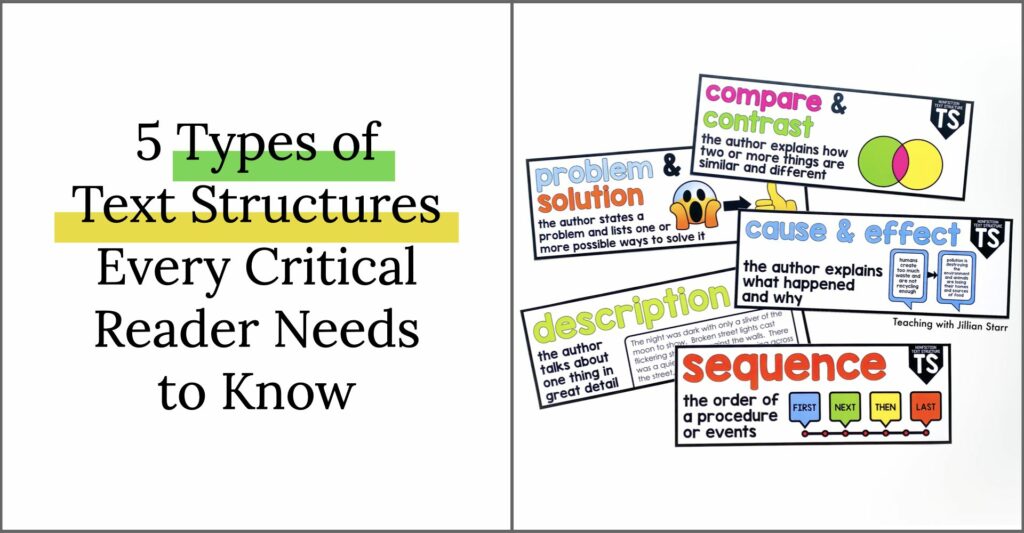 I love teaching nonfiction reading and writing. When I reveal a well-written, nonfiction read-aloud, the class erupts. Joy floods the classroom as students murmur with excitement about learning new facts and information. And, if I play my cards just right, that excitement sticks around as we start to look critically at how authors write nonfiction and the text structures they use.
But here's a little secret about me: I didn't always enjoy teaching text structures. In fact, I didn't even know what they were or why we should teach them. And I'm not the only teacher to feel this way.
That's why today's topic feels so important. Today, I'll walk you through the five types of nonfiction text structures, the WHY behind teaching them, and HOW I teach approach them.
5 Types of Text Structures
The first thing to know: Most nonfiction texts use one of five text structures.
Do you ever think to yourself, wow, these books feel like they follow a pattern…? While sometimes authors are playful and creative to captivate the audience, most adhere to these text structures because they help support the author's purpose and message.
These are the five most common nonfiction text structures:
Description
Order & Sequence
Cause & Effect
Compare & Contrast
Problem & Solution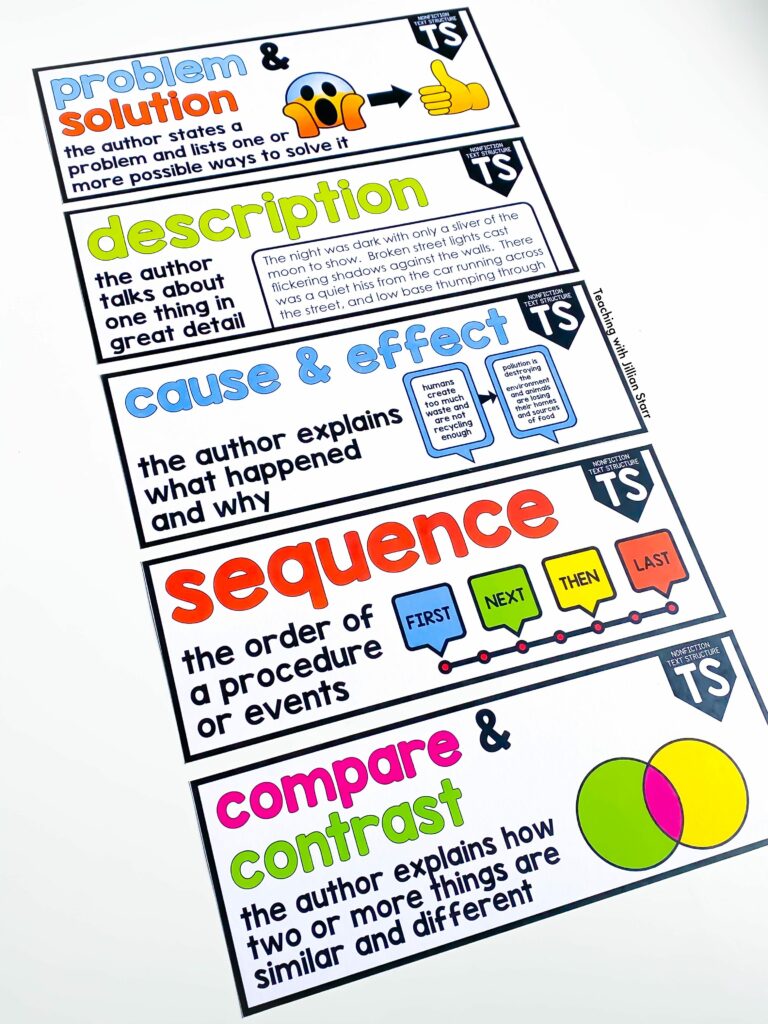 Description
Descriptive text structures can be found in so many nonfiction books for elementary school kids. Descriptive texts describe the main topic of a paragraph or article. Authors use descriptive text instead of other text structures because they want to teach the reader about a specific topic.
How to spot a descriptive text structure:
A topic sentence that introduces a main theme or topic
Sentences that describe that main theme or topic
Descriptives words that help the reader visualize the topic
The author's purpose is to teach the reader about a specific topic. Descriptive text is often found in books about nature and animals. The author is describing facts about a specific topic. They give details so the reader can visualize and learn from the text.
Order & Sequence
Order and sequence is another popular structure in children's nonfiction literature. Order and Sequence text is written in chronological order. Authors use order and sequence because they want to narrate a true story or process in a way that easily conveys the order of events.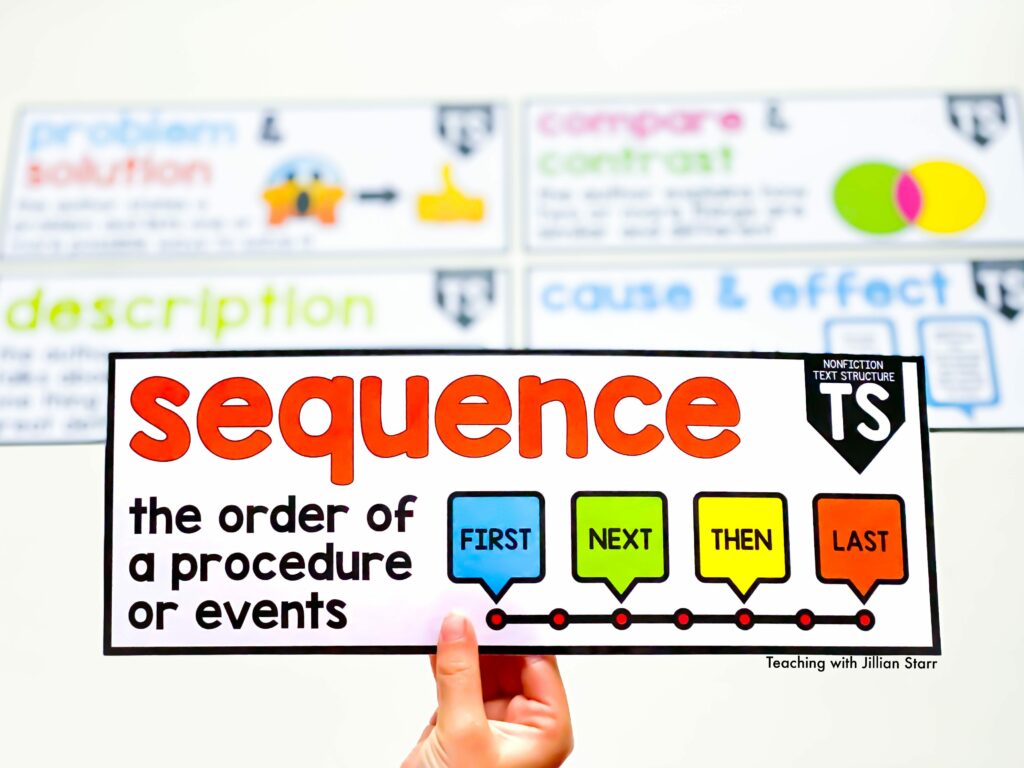 You can spot "order and sequence" structures by noticing:
Events or instructions that happen in order
A topic sentence that starts a chain of events
A concluding sentence that describes the final event
Words such as: "In the beginning," "Finally," "First," "Second," and "Third."
The author's purpose is to narrate a process or true story. Therefore, biographies and how-to books often follow order and sequence text structures. In biographies, authors typically write about a person's life from birth to death (or present day), including each event in the order it occurred within their life.
Similarly, How-To books (such as cookbooks with recipes) need to use sequence and order. The author aims to guide the reader from point A to point B. If you write a process out of order, no one will be successful as they follow along.
Cause & Effect
Cause and effect is the most versatile of all the nonfiction text structures. A cause and effect structure uses the pattern of "If… Then…" If ABC happens, then XYZ will happen. In cause and effect, the author intends to explain a primary event and the events that follow it.
You can spot "cause and effect" structures by noticing:
A main event
Additional events that happened afterward as a result of the main event
Words such as "because," "since," and "as a result of"
Cause and effect text structures can be found in various kinds of nonfiction writing. Biographies? Yes. How-Tos? Yes. Historical nonfiction? Yes. Scientific nonfiction? Yes. Persuasive writing? Yes!
Note: I've noticed that Cause and Effect text structures can confuse some students. The "effects" of the main event vary in number and importance. You could have one event that leads to three or four others, or only one.
Compare and Contrast
Compare and Contrast is also one of the most common text structures. Authors use Compare and Contrast to highlight the similarities and differences between two (or more) subjects.
Spot Compare and Contrast by noticing:
A topic sentence that compares two topics or subjects
Sentences that alternate describing two different subjects
Keywords such as "Similarly," "In contrast," and "Both"
My students and I have noticed Compare and Contrast in many books, especially informational books about animals or writing about literature.
Problem & Solution
Finally, we come to the last of our five text structures: Problem & Solution. Authors use "Problem & Solution" when they want to describe a problem and possible solutions.
Spot Problem & Solution structures by noticing:
A topic sentence that introduces a problem
Sentences that suggest possible solutions below
Words such as "Problem," "Solve," "Therefore," "So," and "Then."
As adults, we are constantly consuming "problem and solution" text structures. It is a common structure for persuasive writing. For kids, problem and solution texts are harder to come by. I often look for texts about the environment and communities where the author highlights local or world issues. In those texts, authors often explain the issue at hand (problem) and how people are trying to solve those issues(solution).
There are a lot of great problem and solution texts on Epic.
Why Teach Text Structures
Okay, now we know the five nonfiction text structures and how to spot them. But why is that so important?
Understanding text structures is critical to student comprehension. I repeat: Understanding text structures is CRITICAL to reading comprehension.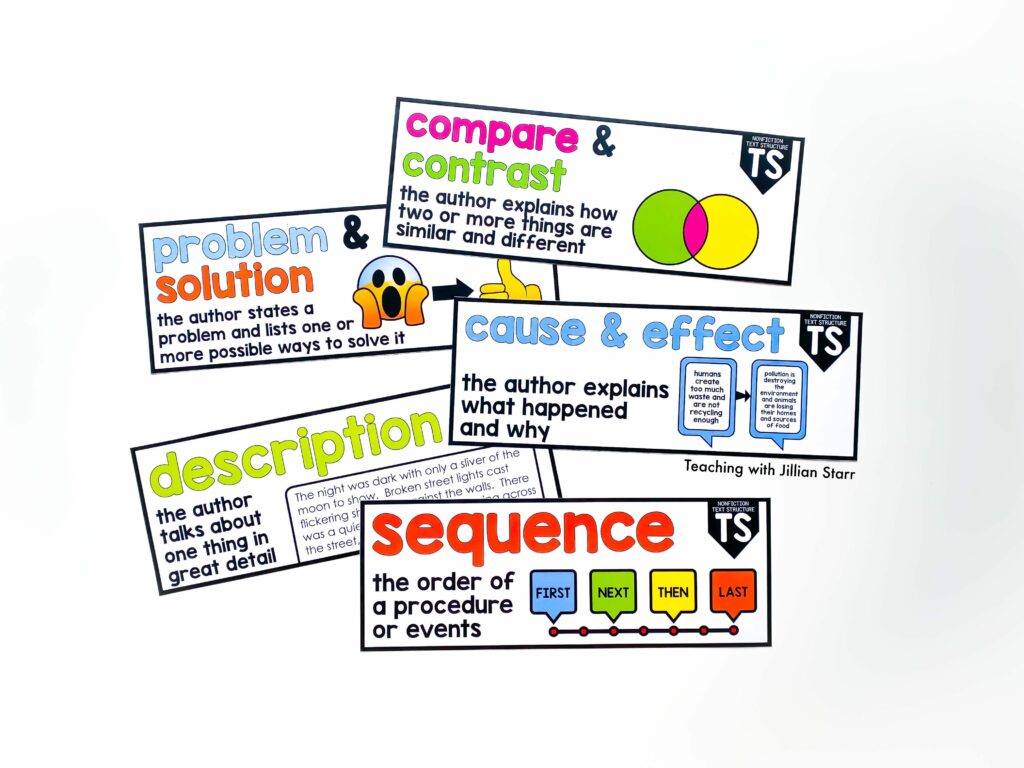 Let's Break Down the WHY
A massive part of reading comprehension is the ability to predict and interpret a text as you read it. When reading a fictional story, we teach story elements because, like text structures, knowing to look for those elements allows students to process and predict as they go.
For example, let's say you are reading a brand new narrative story to your class. Students know to expect characters, settings, a conflict, and a resolution. In addition to familiarity with plot patterns from reading numerous stories throughout their lives (for many students), you have walked students through the process of plot mapping. Now, as a new story is being told, they know what to expect. How does that help the student enjoy and comprehend the story?
They spend less time trying to process the arch and flow of the story.
They know how to interpret character traits within different settings, so they can start to predict how a character might act in face of conflict.
They can more easily predict and confirm predictions as they read.
They can focus less on concrete reading comprehension skills and use their brain power to analyze texts for abstract concepts, such as themes.
The end result: students can spend more time processing the story's details rather than processing the story's structure.
The same is true for nonfiction. When students know typical text structures, they know what to expect. For example, they know that if the author introduces two main topics in the first sentence and gives information about both topics within the paragraph, the author is comparing those two topics. Consciously or unconsciously, the student will be prepared to make their own comparisons while visualizing two topics.
I think of these skills as a gift.
When reading, students often zoom in on details without putting the details together to create a bigger picture. In other words, they the tree without seeing the forest. Helping them understand predictable text structures can revolutionize their ability to comprehend nonfiction texts without reading and rereading them repeatedly.
Another WHY: Text Structures & ELA Testing
Look, I am not a fan of standardized state testing. Fortunately, we do not need to worry directly about testing in younger grades. I've also benefited from school districts that do not place a heavy emphasis on high test scores. However, it is a fact of life. Right now, our students will most likely encounter standardized testing at some point soon.
Strong comprehension of nonfiction test structures is a foundational skill tested in ELA. Students will need to make quick connections and analyze the author's purpose. Students who learn these literary patterns early will be able to notice text structures more quickly and fluently.
Tips for Teaching Text Structures
Now, let's practice what we've learned about text structures. There are many approaches to teaching text structures. Modeling, group practice, and independent practice are part of my typical approach to teaching anything literacy-based.
However, there are other tips and tricks that support students with their understanding of text structures and patterns.
Start with Text Features
Nonfiction text features play a huge role in nonfiction literacy. And while they might not seem like they are related to text structures, they really really are. Let me explain.
In nonfiction texts, text features signal text structures. For example, a caption is text near an image. Captions typically describe the image itself. They are also usually part of a descriptive text structure. For example, if you see a page with multiple pictures of bears with captions underneath, you can assume that you will learn all about bears. Therefore, you can also assume that you might encounter descriptive text structures throughout the page.
Teaching nonfiction text features is a fun, interactive way to engage kids in informational nonfiction before diving deeper into the dissection of text structures. A class favorite: text feature scavenger hunts!
Modeling with Non-Fiction Read Alouds
Modeling is always the most powerful teaching tool. I introduce text structures through modeling and thinking aloud during our read-alouds.
I know the text structures that will appear in the book ahead of time. So, I always make sure to have my Word Wall cards on hand.
I start each think-aloud/read-aloud with ELA Vocabulary Cards that show the specific vocabulary words I will use that day. For example, let's say I am leading a read-aloud to demonstrate the identification of descriptive text structures. The lesson begins with a mini-discussion about the word "descriptive." I share the word wall card with its definition. Then, students share their own associations and experiences with descriptive text.
Next, we do our read-aloud and think-aloud. With the word wall card front-and-center, I pause throughout the book. After all, we are looking for specific text structures. I pose questions to the group: Hmm, is the author describing the bear? Can I visualize the bear the author is talking about?
I keep these word wall cards visible and in our lesson area throughout my entire nonfiction text structures unit. At the end, students add them to our larger word wall.
Text structure analysis doesn't stop with our designated unit. Once I teach text structures vocabulary, we use it all year long. The word wall is a great reminder as we get further away from the direct lessons.
Independence Through Graphic Organizers
Finally, students are ready to try examining text structures on their own. After many blocks of modeling and demonstrating how to think about text structure, it is time for independent practice. I do this when they have shown that they can identify the five text structures without much input or support from me.
Graphic organizers help me scaffold the analysis of text structures. I use them throughout my lessons. That way, my students know how to use them when it is time for independent practice.
Text structure graphic organizers give you two bangs for your buck. While I've discussed the importance of teaching text structures in reading, it is also a critical part of writing. I often use the same graphic organizers when teaching students to write or brainstorm about nonfiction topics.
Understanding text structures is a core component of reading comprehension. I hope you're walking away with a new understanding of text structures and their critical importance within our ELA block. Have tips or tricks for teaching text structures? Please let me know!